A slumber birthday party
Who: Girl turning eight
What: Slumber party for eight girls
Where: At parent's house
Highlights:
A logo was designed for the entire event that was used on almost all of the handout items.
Upon arrival each girl was provided a robe with the Glamour Cat Inc. logo and their name personalizing the robe. The robes were created using XL men's white t-shirts.
The girls were each provided swag bags that contained personalized make-up (based on skin tone).
Make-up was purchased through
E.L.F.
for a $1 a piece.
Each girl received a makeover of their hair, nails and make-up.
Once the makeovers were complete, each girl had the opportunity to have their turn as a supermodel with a three camera photoshoot.
Or as a group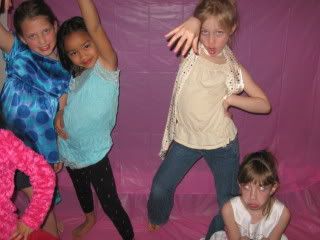 All of the photos from the three cameras were duplicated onto CDs overnight and provided to each of the girls to print out at home.
As a final gift to each the girls, they each received a youth size t-shirt with a group photo from the photo shoot ironed-on to the shirt.