A birthday party for a tiny Veruca Salt.
Don't care how, I want it now.
Who: Girl turning four
What: Birthday party for 18 guests (around the same age)
Where: At home
Highlights:
The invites were created using a large Wonka bar

with gold foil adhered to the back. The invite information was printed on clear sticker paper and placed on top of the gold foil. This invite was written with the exclamation that the person who had received this had won the opportunity to visit Willie Wonka's factory.
Upon arrival pictures of the guests were taken with a Polaroid camera as an Ooompa Loompa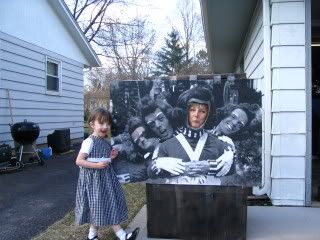 The arrival activity, as the bulk of the guests were three, four and five years old, was to color a picture of oompa loompas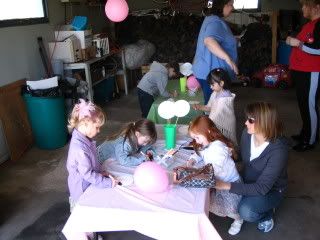 The first activity was to create candy. We used gummy worms to make a gummy ball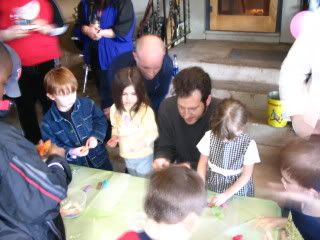 . We also created "Everlasting Gobstoppers" by melting jolly ranchers in a bowl.
The next activity (which unfortunately there are no pictures of) we filled a very large bucket with water and coco mix and placed inexpensive boats with numbers written on the bottom. Each number allowed the children to pick from one of three bins for prizes.
The final interctive activity was a golden egg race. Each child was provided with a plastic Easter egg that was spray painted gold and a spoon. The children were directed to walk a certain length without dropping the egg (if they did they needed to start over). This competition was taken very seriously by all involved.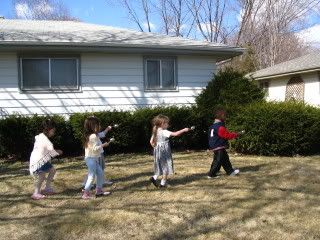 The cake that was provided had Veruca Salt on it and "Happy Birthday to a good egg"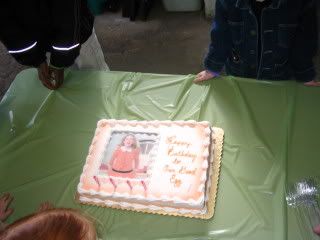 The gift bags included assorted Wonka candies and a toothbrush donated by a local children's dentist.