Yes. Late again. However, it is because we received out starter Emily Rose @ Home party pack. We spent the day taking pics of dolls in clothes, see samples below.
You can find out more information about hostessing a Emily Rose @ Home party by clicking on this logo: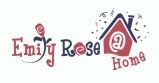 , or if you would simply like to purchase clothing, please click on the Emily Rose @ Home logo on the left hand side of this screen.
Anyway....onto Children's Party Mondays...
First up another delicious Candy theme party. This one is from
Cupcakes and Cosmos
The yummy looking candy buffet
The party room -- can you believe it's a garage?? Too perfect!
A close up of the candy at the candy buffet
A cuuuuute jellybean display.
The second party is from
Everyday Celebrating
. The theme on this one is so perfect for little boys...it's an adorable little farm birthday.
The invite.
Oh. My. A lemonaide duck pond.
The farm theme table.
This cake is great. Bonus points for use of the Fisher Price barn.
I am a Wisconsin-ite. I think these cow bags would be terrific for many different parties!